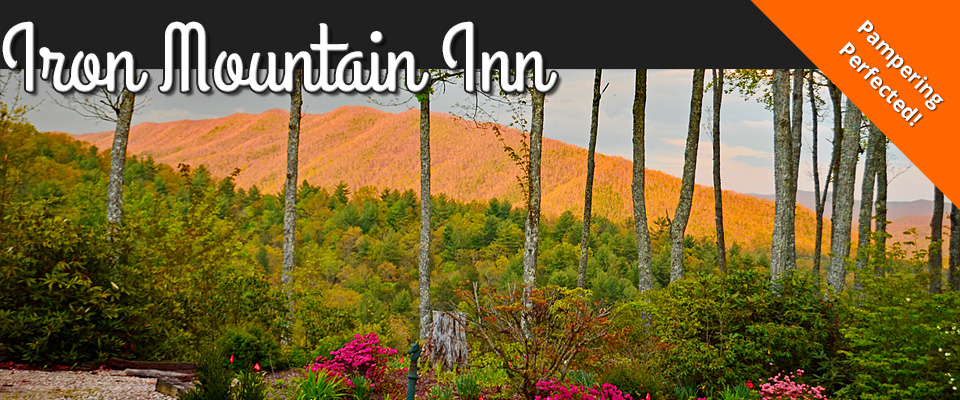 A Romantic Bed and Breakfast near Watauga Lake between Bristol TN, Johnson City TN and Boone NC
In Every Season a Reason to Visit







| | |
| --- | --- |
| | |
| | |
| | |
| Iron Mountain Inn Bed and Breakfast – Mountain View | |
| | |
Iron Mountain Inn Bed and Breakfast – The Guest Rooms

Romance and relaxation are the hallmarks of our rooms with top of the line mattresses and linens, soft lighting, comfortable seating, and even special books adding to the romantic feel.

Click on the Inn's Four Guest Rooms below to help you choose the one that's 'Just right' for you. Each of the four guest rooms have a specific theme; Appalachian Spring Room, Equestrian Room, Green Room, and the Family Memories Room.

Our Keurig instant brewing coffee machine is available day or night for custom brewed coffee, tea and cocoa at the touch of a button. Each room has a dish of treats with candy and crackers to assuage your hunger pains. Snack on the famous Iron Mountain Inn chocolate chip cookies from the bottomless cookie jar.



| | |
| --- | --- |
| | |
| | |
| | |
| | |
| Appalachian Spring Room | |
| | |
Appalachian Spring Room

A romantic 4 poster Queen bed, whirlpool tub and shower plus a private balcony to enjoy the sunrise and sound of the gentle stream below your room make this room a favorite with guests.

$155 – $250

Book Now



| | |
| --- | --- |
| | |
| | |
| | |
| | |
| Equestrian Room | |
| | |
Equestrian Room

This room is popular with the men! Of course, the ladies love it too with its horse theme. The room features a King bed, whirlpool spooning tub and 2 person steam shower! What a perfect start or end to a wonderful day at Watauga Lake or hike The Appalachian Trail to the nearby Waterfalls in the Appalachian Mountains of Northeastern Tennessee.

$165 – $275

Book Now



| | |
| --- | --- |
| | |
| | |
| | |
| | |
| Green Room | |
| | |
Green Room

Watch the mist rise in the valley as you enjoy coffee on your private balcony or from your King bed. For a special romantic evening order candles and soft music while the bubbles rise up to the lip of your whirlpool 'spooning' tub.

Chase your rubber ducky (he would love to go home with you) as he floats around the tub. Rain on the metal roof will lull you fast asleep under the 'wall tree'.

$165 – $275

Book Now



| | |
| --- | --- |
| | |
| | |
| | |
| | |
| Family Memories Room | |
| | |
Family Memories Room

Snuggle in your King bed and watch the sun come up over Doe Mountain. A private balcony for enjoying early morning coffee, or the full moon rising between the trees as you sip a glass of wine at the end of marvelous mountain day. A two person steam shower and cozy jetted tub make a memorable stay when you "want the very best" for your sweetheart. Don't forget, we offer special touches such as champagne and strawberries, romantic decorations and surprises when you book this or any of our rooms. You don't have to come to breakfast until just before 10:00 a.m.!


$175 – $300

Book Now



| | |
| --- | --- |
| | |
| | |
| | |
| Floor Plan | |
| | |
Floor Plan – The Four Guest Rooms

The Four Guest Rooms are on the second floor. Each Guest Room has views of the mountains and woods. Three of the guest rooms have Small Balconies.

Book Now



| | |
| --- | --- |
| | |
| | |
| | |
| Iron Mountain Inn Bed and Breakfast – Mountain Views | |
| | |
Bed and Breakfast Amenities

• Full Hot Breakfast
• Whirlpool Tubs
• King or Queen beds
• Individual Heat/AC Controls
• Wireless Internet Access WiFi
• Mountain View from every window & balcony
• Turn-down Service
• Terry Robes
• Hair Dryers
• Early morning coffee in your robe on your private balcony

• Private Balconies (Appalachian Spring Room, Family Memories Room, and Green Room Only)
• Steam Showers (Equestrian Room and Family Memories Room Only)

For a leisurely start to your morning, join the other Bed and Breakfast guests, or enjoy the privacy of a table just for two for breakfast. Served outside in warm weather or beside the crackling fire in cooler months, but always with a view of the surrounding mountains.

Purchase Gift Certificates



| | |
| --- | --- |
| | |
| | |
| | |
| Iron Mountain Inn Bed and Breakfast – Full Hot Breakfast | |
| | |
Full Hot Breakfast

Breakfast is served either outside during good weather or inside during the colder months but no matter where it is served there is always a view of the surrounding Tennessee Mountains.

Coffee, tea and cocoa are available in the upstairs hall. Take a "cuppa" to your balcony and enjoy bird song instead of car horns to start your advetureous day.

We also cater to Special Diets: Vegan, Plant Based, Gluten Free, and "I don't like liver".

Join the other guests for breakfast outside in warm weather or beside the crackling fire in cooler months.

If you prefer a romantic table just for two, let us know the night before and we are happy to oblige.

The Iron Mountain Inn Bed and Breakfast serves a freshly prepared breakfast each morning.
Among the items we often serve for 'morning food' are:
• Individual Soufflés
• Crepes filled with cheese and fruit
• French Toast
• French Scrambled Eggs
• Belgian waffles with ice cream and strawberries
• Sausage or Bacon
• Fried Eggs done to perfection
• Home made bread
• Assorted Juices
• Poached Pears
• Sautéed Bananas
• Fresh Fruit in season
• A variety of muffins, donuts or other "goodies"

Breakfast is on your time... As long as it's before 10:00 a.m.

We are delighted to provide special diets; Celiac, Vegan, Atkins, Sonoma – We can accommodate any of them as long as we know at least 36 hours in advance.



Contact Information

Iron Mountain Inn Bed and Breakfast
268 Moreland Drive
Butler TN 37640
Book Direct and Save Fees: 1-423-768-2446 | 1-423-444-2518.
Our rates are always lower than those you find on Third Party Booking Agents, so be sure to "Book Direct" – Call Us from 9:00 am to 8:00 p.m. We like to get to know you and you want to get to know us, or Book Online. Find the room you like, put in your dates and reserve your stay.
E-Mail Us
Reserve Your Romantic Tennessee Mountain Vacation Destination
Purchase Gift Certificates
Read Our Guestbook
Please Read Our Policies
Directions

GPS Address is 176 Moreland Drive. Look for the carved wooden bear sign with his sack on his back.