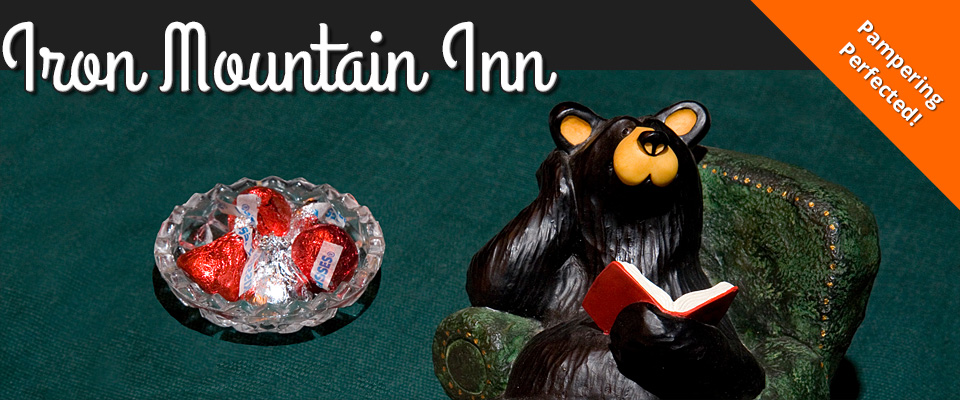 A Romantic Bed and Breakfast near Watauga Lake between Bristol TN, Johnson City TN and Boone NC
In Every Season a Reason to Visit





| | |
| --- | --- |
| | |
| | |
| | |
| Guestbook Reviews | |
| | |
Iron Mountain Inn Bed and Breakfast – Reviews, Television Shows, Articles and Awards

Coming to The Iron Mountain Inn Bed and Breakfast in Butler TN, you will 'Arrive a stranger, but leave a friend'. Before leaving, guests often leave us a note in our Guestbook about their stay. Some of those notes included Here.

The Iron Mountain Inn Bed and Breakfast has also been featured in many Television Shows, Newspaper and Magazine Articles, and Awards.



Guest Reviews

"We can't hardly 'bear' to say goodbye. See you soon."
– Greg and Karen

"Our stay was absolutely wonderful. It was the most relaxing weekend we have been able to enjoy in a very long time."
– Tony and Candy

"We have enjoyed our Second stay in your beautiful Inn. We rate your establishment ***** five stars."
– Rick and Sonya

"The katydids sang us to sleep. This was the perfect get away to celebrate our anniversary."
– Shannon and Amy

"What a wonderful place you have and what a wonderful host you are!"
– Bruce and Peggy

"I tried to think of any place else I would like to be and the answer was no where. This is a little slice of heaven."
– Georgann and Ken

"All the comforts of home – warm and fuzzy – without the clean-up after Thanksgiving dInner."
– Anna and Jimmy

"Anna and I enjoyed a lovely mother / daughter weekend to celebrate her 11th birthday."
– Anna and Patrice

"Our first trip here and it will not our last."
– John and Lynn

"What a wonderful gracious home this is."
– Bob and Anita

"Your Inn is truly a gem in the Emerald Forest."
– Steve and Gayman

"God created Heaven and Earth and The Iron Mountain Inn sets right between both."
– Herb and Charlene

"You go beyond what is expected."
– Kevin

"Fantastic Place! Fantastic View! Fantastic Service! I wish I could stay!"
– Pat

"Thanks for making our stay a 'special time' – we felt at home with someone to take care of all our needs."
– Curtis and Paula

"Our experience was even better than our expectations."
– Carl and Dorothy

"Thank you for helping me salvage a 'working weekend' – after a couple of hectic work days, your Inn was a welcome respite."
– Bonna

"Slept on the MOST comfortable bed in my life."
– Rhonda and Bill

"We spent a wonderful 25th anniversary complete with fireworks"
– Ruth and Ennzio

"Thanks for the memories in the Memories Room"
– John and Carlotta

"This is the prettiest, calmest place we've been."
– Joe and Suzanne

"The food is great as is no TV!"
– Steve and Pat

"After reaching the top, a description is never easy!"
– Maxine

"Back again – Just as much fun the second time around."
– Bud and Beth

"We enjoyed every minute – the food was delicious and the conversation sparkling!"
– Larry and Mary

"Thanks for making such a wonderful place for us to come and be together."
– Mike and Katy, Trevor and Sarah

"Your Inn is the ideal place for R&R, but you are the Inn's best asset."
– Mike and Tara

"Vikki is a fantastic host and we loved our time here."
– Lavonne and Gene



Television Shows

Cable Country – Tim Cable, Host
Tennessee Cross Roads – Nashville PBS Station



Newspaper and Magazine Articles

"I might as well warn you that once you arrive at The Iron Mountain Inn you will not - I repeat, will not - want to leave."
– The Rockdale Citizen's columnist Darrell Huckaby, Conyers, GA

Watauga Lake Magazine – July 2008

Blue Ridge County Magazine – June 2007

The Tennessee Magazine – July 2004

Log Home Illustrated Magazine – November 2000



Awards

Voted #1 'Most Perfect Place to Stay' by guests in Arrington's Inn Traveler Magazine.

Included in Best Recipes From American Country Inns and Bed & Breakfasts by Kitty & Lucian Maynard.

Featured on Tennessee Crossroads Public Television program on Public Television – Johnson County's Only 3 Diamond Property.



Contact Information

Iron Mountain Inn Bed and Breakfast
268 Moreland Drive
Butler TN 37640
Book Direct and Save Fees: 1-423-768-2446 | 1-423-444-2518
E-Mail Us
Reserve Your Romantic Tennessee Mountain Vacation Destination
Purchase Gift Certificates
Read Our Guestbook
Please Read Our Policies
Directions

GPS Address is 176 Moreland Drive. Look for the carved wooden bear sign with his sack on his back.